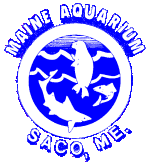 (Information shown below applied to Maine Aquarium prior to closing)
Information

HOURS OF OPERATION:
The Maine Aquarium is open year round, from 9 AM to 5 PM seven days a week! We are closed for Christmas day and Thanksgiving day only.

FEEDING TIMES:
Feeding times remain constant seven days a week. It's an exciting time to see the animals in action! Harbor seals are fed daily at 11 AM, 1:30 PM, and 3 PM. Penquins are fed daily at 10 AM and 2 PM. The fish, sharks, and sea turtles are fed on a continual basis.
GENERAL ADMISSION:

Adults: $6.50
Seniors (age 62 and up) : $5.50
Students (age 5-12): $4.50
Preschoolers (age 2-4): $2.50
Babies (under 2): Always Free
Discount for AAA members
Oct-April all Wednesdays are half price for Seniors (62+)!
LOCATION:
The Aquarium is located on U.S. Route 1 in Saco, 10 miles south of Portland, 12 miles north of Kennebunkport. From the Maine Turnpike (I-95), take Exit 5 (Saco exit). After the toll house, take Exit 2B (Route 1 north). The Aquarium is a mile down Route 1 on the right. We are one mile west of the world famous Old Orchard Beach, a seaside community boasting miles of long sandy beaches.
MEMBER DISCOUNTS:

Members enjoy unlimited visits to the Maine Aquarium during regular business hours for one 12 month period beginning the date of purchase. Members receive:

10% discount on gift-shop items
10% discount on food items at our Forty Fathoms Cafe (seasonal)
a discount off selected whale-watch cruises
$50 off rental charge on facility for banquets and receptions
Click here for a MEMBERSHIP APPLICATION:
SCHOOL FIELD TRIP DISCOUNTS:
Let's all go to the Maine Aquarium! Discount rates for school field trips (with at least 10 students grades k-12) are $2.50/student with one teacher or chaperone admitted free of charge for every 10 students. Admission price for additional chaperones is $3.50/person. Advanced reservations required. Call 207-.
NON-PROFIT ORGANIZATIONS AND BUS TOUR DISCOUNTS:
Group discount rates are available for groups of 10 or more persons with advance reservations. For group members under the age of 19, the rate is $2.50/person. For ages above 18 the group rate is $3.50/person.
VOLUNTEERING:
We encourage individuals to volunteer their time and talents in the interest of enhancing the services of the Maine Aquarium. This is a great educational experience. The minimum age for volunteering is 18 years of age. Please email us for further information.
INTERNSHIP PROGRAMS:
We accept a limited number of students into our internship program each year. Candidates must be enrolled in a local college for college credit and must be willing to supply an internship proposal. Interested candidates must secure a professor to sponsor and coordinate the program through their college.
COMFORT AND ACCESSIBILITY:
The Maine Aquarium is fully accessible to wheelchairs and strollers. It's also air conditioned, with picnic tables on the grounds and plenty of free parking.